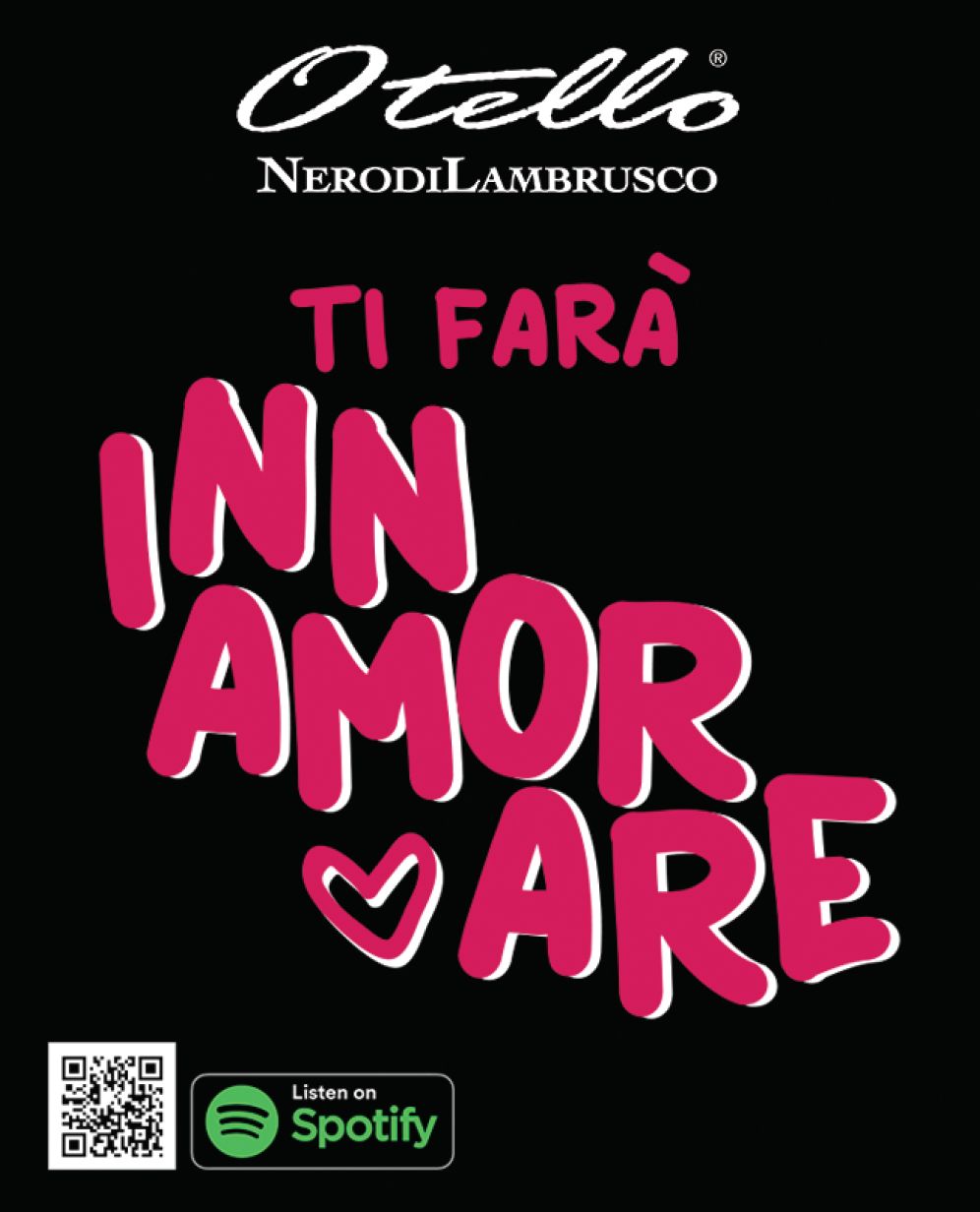 The presence of Cantine Ceci is guaranteed at Vinitaly for the 2019 edition and it will make you dance to the rhythm of Lambrusco.
Our new project is called "Otello is Music" that has as its protagonist, Otello NerodiLambrusco 1813, Ceci's flagship wine and Spotify, the web musical platform with more than 200 million subscribers in the world.

Otello is music, the owners of Ceci declare, and like music, it goes straight to your heart. Using the Spotify platform, we let the bottle play music for you…
Six labels for six emotions each with their own playlist. Choose yours, scan it and live it.The idea was born from the concept that Lambrusco is a popular wine, par excellence, with its sparkling bubbles that make it a true symphony for the palate.Cantine Ceci has decided to bond its wine, beloved by consumers of all ages, to music, which is the most diffused cultural expression in the world. Thinking that the Emilian region is one of the most fertile territories, from a musical point of view, they are seizing the opportunity that in 2020 Parma will be the Italian capital of Culture.Thus the winery has put the musical notes on the bottle and they can be played by the label.
Six principal actions were chosen that you can experience by tasting Lambrusco Otello: dancing, singing, falling in love, getting excited, dreaming and travelling.



Each of these emotions are linked to a colorful label and a captivating design with a QR code, that you scan with a smartphone connecting you directly to a playlist on Spotify. There are 6 labels, each with 40 different songs for a total of 240 which are continuously updated and purposely chosen based on the actions that they represent. At the Ceci stand "Silent Parties" will be organized in which each guest will be able to listen with headphones to a playlist that they prefer connecting to Spotify by the bottle of Otello and dancing on the musical notes of their favorite music.

At Vinitaly 2019 Ceci is glad to introduce its beloved "blonde" to the world. Birra di Parma is born: three home brews with different features, which express style, grace and elegance.
BDPR Gold, Blond Ale, classic English style, pale and high fermentation, classic with fresh and light aromas, suitable for typical Emilian dishes.
BDPR Silver, Imperial Pils following the German style, lightly golden with spicy and citrus flavours that makes it suitable with herb cheeses and boiled meats.
BDPR Bronze, American Pale Ale following the American Style, amber and high fermentation balanced by a rich aromatic bouquet thanks to a good dose of hops, which makes it suitable as an accompaniment to fish dishes and grilled meats.

As usual, Ceci thinks about substance but on the other hand pay attention on shapes, for this reason gives Birra di Parma an exclusive and elegant bottle, an original size of 500ml with a basic and stylish design. Two separated projects, the first one, pop, painted and sparky connected with music and Lambrusco wine, the second one more graceful and smart dedicated to home brewed beer of our territory.